A Healthy Dinner in 40 Minutes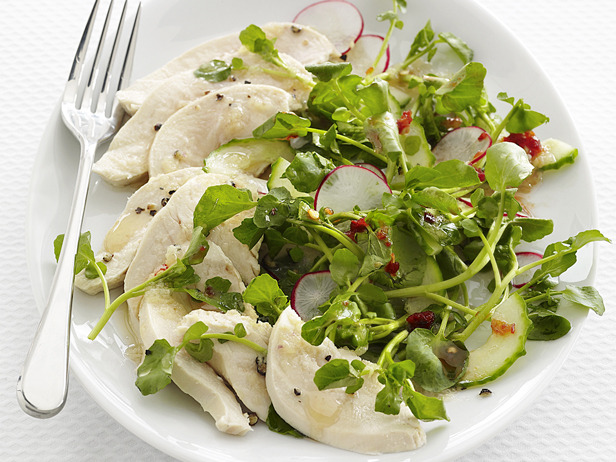 Ingredients
4 boneless, skinless chicken breasts (1 3/4 to 2 pounds)
Kosher salt
1 2-inch piece ginger, peeled
1 large shallot
4 tablespoons peanut oil
1 tablespoon toasted sesame oil
1/2 teaspoon sugar
1 English cucumber, halved lengthwise, seeded and thinly sliced
1 bunch radishes, thinly sliced, or 1 small daikon radish, peeled and cut into matchsticks
1 teaspoon Asian chili sauce (such as sambal oelek)
1 bunch watercress, trimmed
Juice of 1 lime
Directions
Put the chicken in a medium pot with just enough water to cover; add 1 tablespoon salt. Bring to a gentle simmer over medium heat and cook until the chicken is firm to the touch, about 15 minutes. Meanwhile, prepare a bowl of salted ice water. Drain the chicken and plunge into the ice water for about 30 seconds to stop the cooking. Drain again.
Grate the ginger and shallot into a small bowl. Stir in 3 tablespoons peanut oil, the sesame oil and 1/4 teaspoon each sugar and salt.
Toss the cucumber and radishes with the chili sauce, 3/4 teaspoon salt, the remaining 1 tablespoon peanut oil and the remaining 1/4 teaspoon sugar in a large bowl. Add the watercress and toss.
Divide the salad among plates. Slice the chicken and add to the plates, then top with the ginger mixture. Drizzle with the lime juice.
Per serving: Calories 432; Fat 23 g (Saturated 4 g); Cholesterol 118 mg; Sodium 614 mg; Carbohydrate 9 g; Fiber 2 g; Protein 47 g
Categories:
Blog